2015 Cowper - Cowdrey Cup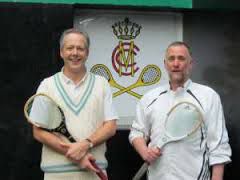 Unfortunately the Real Tennis competition against MCC (Marylebone) was a reflection of the 3rd & 4th Tests on the field, Australia went down in
a screaming heap 3-0.
Fred Kininmonth and Tim Poolman started brightly winning the first set 6/4 but then dropped away losing the next two 2/6 and 4/6.
Iain Buchanan and Russ Middleton started slowly losing the first 0/6, then got on board winning the second 6/4 but falling short on the decider 5/6.
.
John Mackinnon and Peter Scollard were like the middle order for Australia, gone missing on the scoreboard losing 1/6, 1/6.
Like the cricket team, we'll need better preparation next time in order to deal with the English conditions and prodigous ball swing :-)